Chopard Happy Diamonds
Yellow Gold on Bracelet with Blue Dial
Chopard > Happy-Diamonds > Yellow Gold > Happy Diamonds HappyDmdndBlueDial < Previous - Next >
Chopard
HappyDmdndBlueDial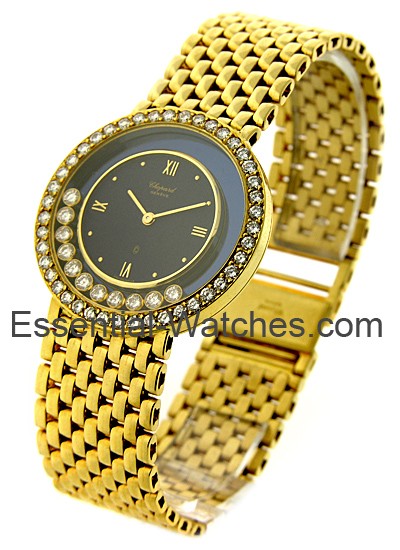 Happy Diamonds
Yellow Gold on Bracelet with Blue Dial
Item ID -

10069

Model # -

HappyDmdndBlueDial

Case -

18KT Yellow Gold

Case Size -

32mm

Movement -

Quartz

Dial -

Blue

Bracelet -

YG Bracelet

Last Known Retail Price - 25,000
SORRY... but most likely this watch is NOT IN STOCK.
There are two options:
Do You Own This Watch?
We are currently looking to acquire this watch
Product Reviews
The Chopard Happy diamond Ladies watch showcases a conventional Quartz movement mechanism and is enclosed in an 18kt Yellow Gold Casing. This Chopard Happy diamonds Ladies watch has a case size of 32mm and the bezel is set in a burnish type with 44 round melle diamond (one and a half pointer) with an approximate weight of 0.75cts). This Chopard Happy diamond is sporting a combination of blue enamel and a black enamel face dial with embedded Roman numerals on 3, 6, 9, and 12 hour markers. This precious timepiece also showcases its 11 two and a half pointer round melle diamond set in bezel and moving freely inside the case. This signature act is commonly known as the floating happy diamond. The Chopard Happy diamond is a celebration of the elegance and simplicity of the most precious stone in the planet; complementing its feminine soul to eternity.


Similar Models